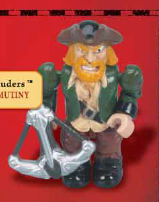 The Mutineers were the second group of Sea Marauders to turn on Captain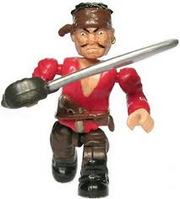 Cutlass. In the end, only Murk Mariner was the survivor, and he was taken back by Cutlass.
History
[
]
Captain Cutlass's decisions had become very controversial amongst the crew members, and the breaking point was at the Lighthouse Sea Battle, when Cutlass's first mate, Nicholas Nautilis, ordered a retreat, abandoning Marcus Mutiny. He escaped in a rowboat, but not with the same attitude that he had going into the battle.
Shortly after, Mutiny managed to find the Stormstalker, and snuck aboard. He managed to convince five of the eleven members to join him, and they locked Cutlass and his loyal members (Nautilis, Gruffrey, Spitshine, Juryrig, Vanjammer) in the brig.
Cutlass and the others soon escaped, and the broken crew battled. In the end, Mutiny was shot and killed in the face by Nautilis, while the others got away in a boat, heading for Lost Fortune.
During the battle of Lost Fortune, the Mutineers attempted to get the treasure, but when the creature Crabster was awakened, Murk Mariner ran off while it
obliterated Craven and Blackburn. Shortly after it finished with them it killed Merchant, and Lavoie ran away, only to be cut down by the Skeleton Crew.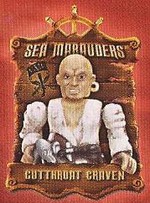 Mariner ran directly into the Sea Marauders, and Nautilis reluctantly let him back on the crew, believing he had learned his lesson. Thus ended the Mutineers.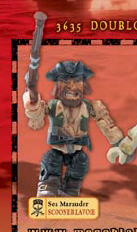 Members
[
]