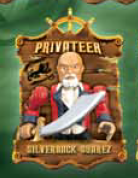 Silverback Surrez

Species

Human

Affiliation

Privateers

Hair Color

White

Ship

Avenger

Rank/Job

Major

Status

Deceased
Silverback Surrez is a Privateer who has a Cutlass and appears in the Pyrates cove set
1 of only 6 black characters of the 84 made.(even though on the box cover is shown as being white).
One of the oldest men in the Privateer crew, Surrez was a well experianced man, who had spent nearly half his life searching for the lost treasure.
When Admiral Blue Beard began his search for the treasure, he decided to use him as a spy, infiltrating enemy harbours. His least succesful investigation began when he got access into the Sea Maruarders main hideout of Pyrates Cove. He was found out and he was shot in the hip and when he was rescued by the Privateers, chose to retire. But a while later, after recovering, Admiral Blue Beard asked him to rejoin, because they believed he could solve where the treasure was, with the new clues, because they thought that he was clever enough to finally find the treasure. Like the most, he failed.
Surrez was killed in the final battle for the treasure.
.