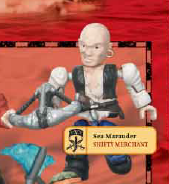 Shifty Merchant

Species

Human

Affiliation

Sea Marauders

Hair Color

None

Ship

Stormstalker

Rank/Job

Gunman

Status

Deceased
Shifty Merchant is a Sea Marauder with a Crossbow and he appears in the Coffer Trap skull cave set with his best friend Murk Mariner and his enemy Skullforage.
He is usually the most dimwitted, but also one of the strongest of the Sea Marauders.
Merchant took part in the second Sea Marauders mutiny, but was killed by Crabster on Lost Fortune.