As we know, the popular Mega Bloks PYRATES set, Shark Escape, is a little odd. This spectacular set came with two mini figures. If we look at the back of the box on Shark Escape, it says that the blonde bearded man is named Jonathan Juryrig, and the other is named Oliver Lugsail. But if we look at the character map, the names are switched...
If so, who died?
Edit
Apperently, in the set Shark Escape, one Sea Marauder dies by the chawmping Jaws. They say, Jonathan Juryrig died, but who's that? Remember I said that they switched up the name labels? EXACTLY!!! To this day,we don't know which Sea Marauder died...
Possibly, A Mistype?
Edit
Mabe Mega Bloks just made a typing/printing error. I really don't Know what the deal is with that though. But other than that mystery,Shark Escape is a great Mega Bloks PYRATES set and I recomend you to get it.
The shark's species.
Edit
It doesn't say what kind of shark is feaatured, but compared to the minifigures, it's big enough to be a Megalodon.
PyratesExpert
(
talk
) 03:13, January 18, 2015 (UTC)PyratesExpert
PyratesExpert
(
talk
) 03:13, January 18, 2015 (UTC)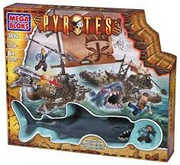 Community content is available under
CC-BY-SA
unless otherwise noted.