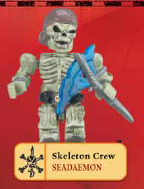 Seadaemon

Species

Skeleton

Affiliation

Skeleton Crew

Hair Color

None

Ship

Dread Eye's Phantom

Rank/Job

Assault

Status

Deceased
Seadaemon is a Skeleton with a Skeleton Spear and he appears in the Battle for the Treasure island set, along with his ally Bilge Treader.
Seadaemon was one of the two skeletons, along with Hatchetfoot, who tried to stop Brine from escaping during his mutiny, and was kicked down throught the hull of the ship.
In the instructions Booklet it shows that Seadaemon has the Skeleton sickle rather than a Spear.