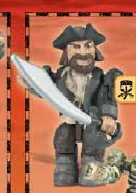 The Battle for the Lord Pyrate's Treasure

[

]
Scotty Spitshine

Species

Human

Affiliation

Sea Marauders

Hair Color

Brown

Ship

Stormstalker

Rank/Job

Assault

Status

Alive
Scotty Spitshine is a sea Marauder and friend of Blackteeth McBaine
He comes in the treasure set Pieces of eight, along with Vertibrine (a skeleton).
He refused to take part in the second Sea Marauders mutiny. He later loaded the treasure onto the Stormstalker with Vincent and survived the battle overall.
The Treasure of Perdition

[

]
Scotty Spitshine was still alive when Cutlass wheezed his last breath and became master of arms when Gruffery became captain. (He took on more of a role in the plot here) He pretty much became Gruffery's most trusted mate, though he reserved first for Marty Makofish. He survived the squall that destroyed the Stormstalker and sailed on with Gruffery. They would never reach Tortuga, but they would soon come face to face with a fearsome, buccaneer captian. To be continued...
By - Captain Dread