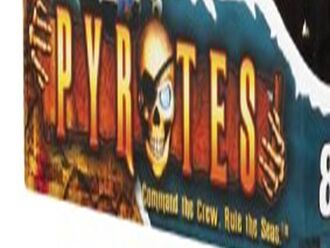 Pyrates  was a huge Mega Bloks theme first released in 2005. This was the first Mega Bloks series that used Mini figures with ball jointed articulation at the hips, shoulders, and neck, in addition to hinged knees, elbows and rotating wrists. This made them the most articulated figures in that scale.
The Mega Bloks Pyrates range was, as the name suggests, all Pirate themed.
In 2011 Mega Bloks expanded and re-released a couple of the Mega Bloks pirates sets in the Skull Cave line.
Pyrates are unlawful sailors who are all in search of the Treasure of the Lord Pyrate. They are segregated into crews and sail aboard magnificent vessels.