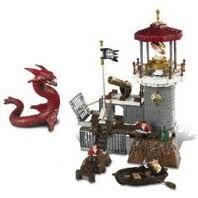 Privateers Lighthouse (Lighthouse for short) is a lighthouse in the east of the Skull Haven and is owned by the Privateers. This is where a great battle took place and is where the Lost Souls were defeated.
One of few sets that needs batteries. (It and Dread Eye's Phantom.)
Includes a lifting cage door, a battery operated light, (that also views slides) a boat, a sea serpent , and a firing cannon.
Figures include:
Gaptooth Gorvinsky, a buccaneer with a crossbow.
Finn Hookswell, a privateer with a black pistol.
Carl Carbunkles, another privateer with a cutlass.
When I looked more carefully at the set, I noticed that Finn has a black pistol. Big deal, right? Well, it is for me. That is, most other privateers have brown-trim weapons and the marauders have black. Just wanted to point that out.
My rating of the set: 8/10 for the serpent.