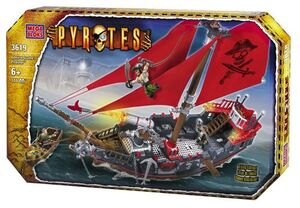 Admiral Scathe's Predator (Predator for short) is the ship of the
Buccaneers
and is owned by Admiral Scathe. The ship used to be an old Sea Marauder ship before Admiral Scathe took it.
A very nice ship, has 4 cloth sails, a firing cannon, a row boat, treasure, a below-deck for storage, a crow's nest, and a plank.
The Predator was sunk by the Skeleton Crew after the Skeletons stole the treasure from Fort Defiance.
Figures include:
Admiral Scathe, one of two Buccaneers leaders with a cutlass.
Steve Scaburn, a buccaneer with a crossbow.
Brigadoon Blackburn, a Sea Marauder with a black pistol.
Community content is available under
CC-BY-SA
unless otherwise noted.