Pirate quest is a series apparently made by Mega bloks in an unknown year. Actually, the packaging is similar to the 2.0 version of pyrates, so maybe it came out in 2010 to 2014? And according to my research, I think it came out in the UK. I don't know if it replaced Pyrates there or what... it is pretty much the same thing as pyrates. I can only find two sets based off of it, a ship with a skull and crossbones on one of its thrwee red sails that comes with a figure similar to bluebeard, a figure similar to steve buckburn, and a skeleton weilding a norvagen butcher knife from mega bloks dragons.Oh, and its literally called "pirate ship."
The other set is ALSO called "pirate ship." Mommy, for christmas I want pirate quest!" "which one?" "pirate ship!" "...which one?" This set is basically admiral scathe's predator. It comes with all the same figures and is JUST a recolour. it's product number is 95504.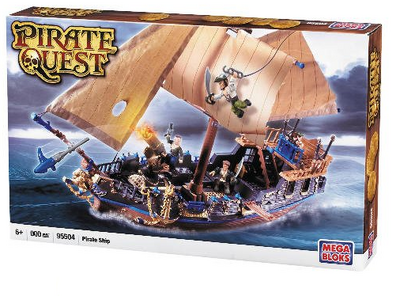 Community content is available under
CC-BY-SA
unless otherwise noted.