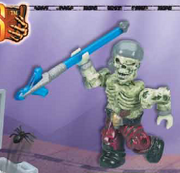 The Battle for the Lord Pyrate's Treasure

[

]
Nautilasher

Species

Skeleton

Affiliation

Skeleton Crew

Hair Color

None

Ship

Dread Eye's Phantom

Rank/Job

Crow's Nest

Status

Undead
Nautilasher is a Skeleton that appears in the Dread Eye's Phantom and has a Skeleton Spear.
Nautilasher was one of the three skeletons that escaped the Phantom before it exploded, along with Scrapedepth and Morose.
The Treasure of Perdition

[

]
Nautiliasher, alongside Morose and Scrapedepth, resurfaces from the depths again after escaoing Admiral Scathe and his men. He becomes the Bo' sun of Scrapedepth's small force, not that there is really anyone to boss around with Morose as quartermaster. He still enjoys the title though, and acts much like Ragetti with Morose acting more like Pintel. He is constantly driving Scrapedepth mad and is often close to getting his head taken off, yet he is only one of three so Scrapedepth just has to live with him. To be continued...
By - Captain Dread