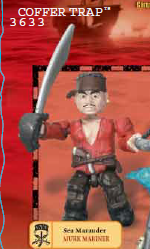 Battle for the Lord Pyrate's TreasureEdit
Murk Mariner

Species

Human

Affiliation

Sea Marauders

Hair Color

Black

Ship

Stormstalker

Rank/Job

Raider

Status

Alive

Weapon

Cutlass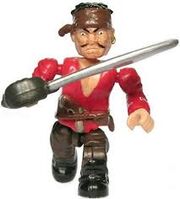 Murk Mariner is a Sea Marauder. Born in Coffer Trap.
Murk was recruited by Cutlass to find him wounded in Pyrate's Cove.
Keelhaul Jettyport became very close to him, but he always suspected that he was up to something.
Marcus Mutiny secretly threatened Murk to betray Cutlass, which he pretended he did.
Murk set a trap for Marcus so he would not get away with it and finally Marcus was discovered and subsequently executed by Nicholas Nautilis for conspiracy and harassment.
When Cutlass finds Treasure Island, he orders Murk and Musket to take a boat and inspect the island. Unfortunately, Blue Beard and two privateers were there. The admiral shot Musket in the arm. Murk helped him and both escaped, but not before picking up a strange golden spyglass. Murk's act would make a strong link in his friendship with Musket.
The Treasure of PerditionEdit
Murk Mariner reappears in this part of the story, still alive after Cutlass' death. He remains a deckhand to Gruffery because of his previous alliances with mutineers. He does start to earn Gruffery's trust, however, and soons believes he'll be at the top. His uniform changes from his red shirt to one similar to Shifty Merchant's. He survives the wreck of the Stormstalker and follows Gruffery to Cutthroat Cove, where they find an unexpected suprise. To be continued...
By - Captain Dread
Community content is available under
CC-BY-SA
unless otherwise noted.