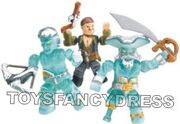 Lost Souls Invasion is a figure booster with 3 fully articulted Pyrates figures. It is a people set that comes with a character sheet.

Figures include:
Ghoulugger, a Lost Soul with a cutlass.
Vestige, a Lost Soul with a crossbow.
Pascal Scallywag, a Sea Marauder with a brown pistol.
Ghoulugger is the ghost of Admiral Blue Beard and Vestige is the ghost of Nestor o' Loch.