King Midas

Species

Skeleton

Affiliation

Skeleton Crew

Hair Color

None

Ship

Dread Eye's Phantom

Rank/Job

Bosun

Status

Deceased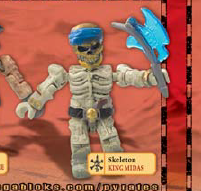 He is one of two rare skeletons with a metallic head, the other being Agememnon, who has a pewter-like head. Like Agememnon, king Midas has the rank of Bo'sun aboard the Phantom and sometimes wields a whip that he and Agememnon share. His human name was coincidentally Midas, and he's one of the only skeletons to have known human names, aside from Scrapedepth.
He had an ongoing rivalry with Captain Cutlass over the death of Blackteeth McBaine. Cutlass eventually got his revenge on Midas in the final battle for the treasure, when Midas was kicked down the ship's hull.
His name is likely a retcon of the fable that King Midas could turn anything into gold by simply touching it.
Set: Doubloon Mystery
Weapon: skeleton axe