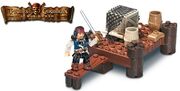 The main character of Disneys Pirates Of The Caribbean, he owns the Black Pearl, got his ship back from his cursed skeleton crew, got eaten by the kraken, came back from Davy Jones locker, and went to the Fountain Of Youth. Mega Bloks made a set named after him and got his own figure and he pretty much has more mirco action figures out of him in different sets.
Captain Jack Sparrow

name

Jack Sparrow

set

many sets like Black Pearl and other more PoTC sets

ship

Black Pearl

Weapon

a lot of weapons, specially a Cutlass
In his early life, he was friends with Captain Cutlass and the Sea Marauders, and once helped mend his ship, the Storm Stalker after it was damaged by the Skeleton Crew. After Captain Jack Sparrow was mutinied against by Barbossa and his crew, the Marauders never saw him again, asuming he was dead.