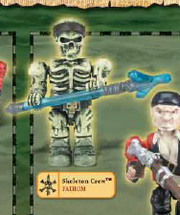 Battle for the Lord Pyrate's Treasure

[

]
Fathom

Species

Skeleton

Affiliation

Skeleton Crew

Hair Color

None

Ship

Dread Eye's Phantom

Rank/Job

Slave (formerly)
Gunsmith

Status

Deceased

Human name

Miles
Fathom is a Skeleton with a Skeleton Spear and he appears in the Treasure sack set Buried Bounty. His current opponent, Blackboots Burton, is also included in this set. He was a slave who, thanks to Dread Eye, was able to find a home on the ship. He became a close friend of Hatchetfoot since both considered themselves blood brothers even if they were not biologically. He was condemned to the Phantom's Hull by Dread Eye, along with Sublurker and Noricorpse, when they questioned his authority. It is said that Hatchetfoot wanted to stop Dread Eye before he threw Fathom into the Hull, but full of fear, he did not. Ironically, he would die later after being pushed by Brine during a mutiny.
The Treasure of Perdition

[

]
Fathom, despite being killed, like Noricorpse and Sublurker, returned in this film, revived by Davy Jones. Hatchetfoot promoted Fathom to master gunner and apologized for standing by during their murder. Fathom accepted his new position and Hatchetfoot's apology and began to contstruct the new Phantom. To be continued...
By - Captain Dread