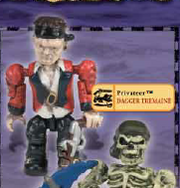 Dagger Tremaine

Species

Human

Affiliation

Privateers

English Army

Hair Color

Black

Eye Color

Black

Ship

Avenger

Avenger II

Home

Hidden Loot

Rank/Job

Private (formerly)

Lieutenant (formerly)

Commodore (after Bluebeard's death)

Admiral (after Carbunkle's retirement)

Status

Alive
Dagger Tremaine
is an important member of the Privateers.
Originally he didn't have an important role in the story, since he was a Privateers recruit. However, after earning respect from Admiral Bluebeard, he won a promotion to lieutenant. After the death of Bluebeard and rise of Twosails as a new admiral, he is promoted as Commodore.
After becoming a commodore, his role in history is greater as he begins a rivalry with Keelhaul Jettyport, an important member of the Sea Marauders.
After the death of Twosails, Dagger wants to be the new admiral, however, that position is taken away by Carl Carbunkles. Carl Carbunkles, decides to retire from admiral due to his advanced age and gives his position to Dagger, who from the beginning dreamed of being an admiral.
Already an admiral, he can compete with the now new Sea Marauders captain, Keelhaul Jettyport. Throughout story, he fought with Keelhaul three times, losing those three.
It is also said that Dagger fought in the French Revolution against the Jacobin leaders, but this is only a farce or a non-canon story.
Dagger has been a reckless person, however, in Cthulthu's arc, he shows a fear towards the titan.
Community content is available under
CC-BY-SA
unless otherwise noted.