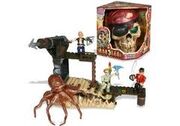 Coffer Trap is located in skull haven and is owned by the sea marauders

Includes: octopus, firing cannon, (actually it's a harpoon gun) a dock, an upper level, and a few figures.
Figures include:
Shifty Merchant, (twin of Topmast Tremblay) a marauder with a crossbow.
Murk Mariner, another marauder with a cutlass.
Skullforage, a skelaton with a pointy skelaton ax.
I give a 8/10, there should've been more things on the island. Just that ladder, a torch, and a rock wall dissapoint me.
2.0
In 2011, MB re-released a few sets with a few changes. This one was one of the worst. It looks almost the same, minus a few color changes.
5/10.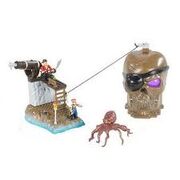 Community content is available under
CC-BY-SA
unless otherwise noted.