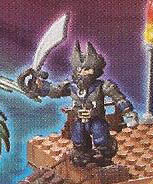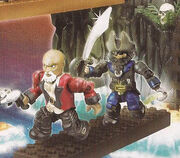 Captain Sabrehook

'

Species

Human

Affiliation

Sea Marauders

Hair Color

Black

Ship

Unnamed

Rank/Job

Captain

Status

Alive
Captain Sabrehook is an evil pirate who commanded the Sea Marauders at the start of the story. He led a mutiny against Captain Quell, marooning him on an island. Sabrehook then arrogantly led an assault on Dread Eye's Phantom, where he met his demise when he fell down the ship's hull.
When Sabrehook died, he turned into the Lost Soul Howlinger. His mold is shared with Howlinger and Captain Cutlass.
Two years later, he escaped the land of the dead and defeated the evil leviathan. So he is back again!
.