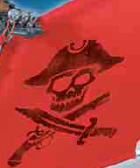 A group of real pirates, they used to be part of the Sea Marauders before they mutinied. Admiral Scathe is their leader that most people think of, but Captain Brine, a skeleton traitor, is also a buccaneer captain.
The smallest crew besides the Lost Souls, its surprising they even have a ship, the Predator.
Weapons are okay in variety, they have:
Crossbows, (lots of them) cutlasses, knifes, and black/gold pistols. I'm not sure about Lost Fortune, and if they have different weapons or not.
The Buccaneers eventually came down to only four survivors (Scathe, Brine, Scaburn, Portside), but they still took a third of the Lord Pyrate's treasure, and used it to get another ship, since the Predator was destroyed.
Crew: