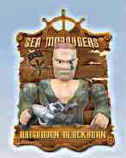 Brigadoon Blackburn/Gun Smith

Species

Human

Affiliation

Sea Marauders

Hair Color

Brown/Black

Ship

Stormstalker

Rank/Job

Assault

Status

Alive

Home

Pyrate's Cove
Brigadoon Blackburn (also known as Gun Smith) is an original member of the Sea Marouders, recruited by Captain Cutlass.
He appears to be a tough man, has big muscles and an unfriendly face, yet he is sentimental several times, as in McBaine's death.
In battle, he uses swords and sometimes a gun, but has mentioned several times that he prefers hand-to-hand fighting, and due to his brute strength he is capable of killing with a single punch, as he did with a few Privateers at The Lighthouse.
In "Whispers and Betrayals", he is seen attempting to kill the crustacean monster, failing, but survives.
Some rivalry with Jonathan is shown, as they are both the physically strongest of the Marauders.
On his face and arms, there are scars from past brawls.