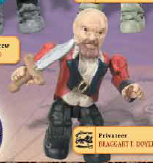 Braggart T. Doyle (or Braggart T. Jones)

Species

Human

Affiliation

Privateers

Hair Color

Brown

Ship

Avenger

Rank/Job

Private

Status

Deceased
Braggart T. Doyle is a Privateer.
His weapon is a knife. He is very similar to Lockpick Cabot, but this guy has a lighter brown beard.
William Blackeye killed Doyle aboard the Predator during the Lighthouse Sea Battle.
In the original he comes with Maroon Gally, and kinda has his name screwed up in 2.0. He still comes with Maroon Gally, but his beard is silver, the box says he is Braggart, and the instructions say he's Dawson Doubloon. For the sake of most accurate based on older facts, I reccommend you name him Braggart T. Jones and the original Braggart T. Doyle. (There was a mess-up where some papers say his last name is Jones, but most say its Doyle.)