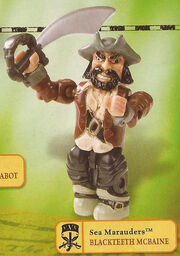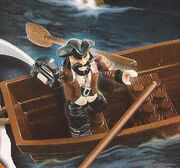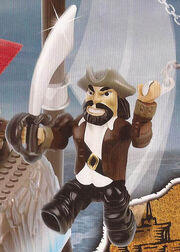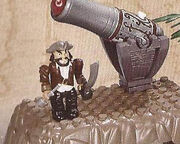 Blackteeth McBaine is a Sea Marauder and personal friend of Captain Cutlass. He has long black hair, a moustache, a short beard and dark brown coat. His figure comes with Smuggler's Fort.
The picture in the infobox is actually the 2.0 Blackteeth, however impossible to tell. The 2.0 version is very similar to the old one, except for different pants and a cleaner face and shirt. He makes a good first mate for the marauders, along with Scotty Spitshine. Blackteeth died after taking a bullet for Captain Cutlass when King Midas fired at him during the battle between the Phantom and the Stormstalker.
Blackteeth shares a mold with Marcus Mutiny and Scotty Spitshine.
Blackteeth McBaine



Species

Human

Affiliation

Sea Marauders

Hair Color

Black

Ship

Stormstalker

Rank/Job

First Mate

Status

Deceased