Jurassic World: Dominion Dominates Fandom Wikis - The Loop
Play Sound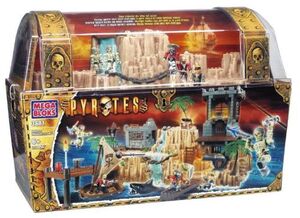 The Battle For Treasure Island took place on Treasure Island, the largest island in Skull Haven. All factions thought that the Lord Pyrates treasure was here but only his special treasure was buried and not the treasure everyone was looking for.
By many people's mind this is indeed the largest, coolest most awesome set in the story. It is one of few sets that has more than two factions battling. It has a trapdoor leading to a prison, a flip-up door revealing a unique treasure box, a modified row boat with a sail, a firing cannon, a shark, two docks, (one for little boats and another for big ships.) and Admiral Blue Beard, the rare leader of theprivateers.
Figures include: Admiral Blue Beard, leader of the privateers.
Scabby Buckbeard, a privateer.
Musket Monroe, a sea marauder.
Seadaemon, a skeleton.
Bilge Treader, another skeleton.
Weapons were intended to be distributed like this: Blue Beard gets a cutlass,
Scabby gets a rifle,
Musket gets a black rifle,
Seadaemon gets a skeleton-blue spear,
and Bilge Treader gets an astheic skeleton-blue ax.
I highly recommend this set to pyrate lovers, and I think it was intended for greater things than sitting on a shelf collecting dust in the house of an eBay seller. The only problem is that is very expensive.
My rating: 10/10.