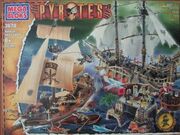 Set no. 3678 Battle at Skull Haven is a set collection including the
Phantom
,
Stormstalker
, and
Smuggler's Fort
. This battle was in the promotional video.
Figures:
Sea Marauders:
Captain Cutlass
Marcus Mutiny
Blackteeth MacBaine
Nicholas Nautilis
Skeletons:
Captain Dread Eye
Shoveltooth
Nautilasher
Maritrocious
Barnaclops
Lockjaw
This is very rare and many think it to be not released, but as of 6-16-13 this link brings you to the actual product. No advertising for other sites intended, this is just to inform that this product exists. http://www.amazon.com/Mega-Bloks-3678-Pyrates-Battle/dp/B003WL8NMG/ref=sr_1_36?ie=UTF8&qid=1371426162&sr=8-36&keywords=mega+bloks+pyrates,
(12/06/2013) This set WAS released. I happen to own it. I received it as a birthday/X-mas gift from my wife in 2006. I am pretty certain that she purchased it from one of those "big box/membership stores". I owned it and displayed it as a collector for a couple of years before putting it into storage. I recently took it back out of storage after nearly seven years, and assembled it in preperation to gift it to my two sons for Christmas in a couple of weeks. I was happy to see that it was 99.9 percent complete with only one small decorative skull missing. The set inlcuded the two ships (Phantom and Storm Stalker) and the Smuggler's Fort. I don't remember all the details of what chracters were inlcuded with the set in part becuase I added extra figures from other small sets that I purchased mostly to get the extra characters to add to the crews. Sadly, I don't have the instructions in order to very what characters came with the set originally. If I remember correctly, this set was selling somewhere in the neighborhood of $60 when my wife purchased it. You can imagine my surprise when I see new sets like this selling for anywhere from $699 to $1174. Here I am about to hand it to my 3 and 4 year old boys!!!
Also; not sure why some have stated that this set is similar or "unecessary" because of the release of the set called Black Sea Battle. Although both sets include the same two ships, the small gally set that comes with the Black Sea Battle set pales in comparison to the Smuggler's Fort of the Battle At Skull Haven set! The Smuggler's Fort is a fairly large set built on six large rock formations topped with a fort which includes a cannon and a trap door. There are rocks and foliage such as bushes and palm trees and a very tall look out tower which is basically the same mast and crow's nest pieces used on the Storm Stalker ship.
Community content is available under
CC-BY-SA
unless otherwise noted.